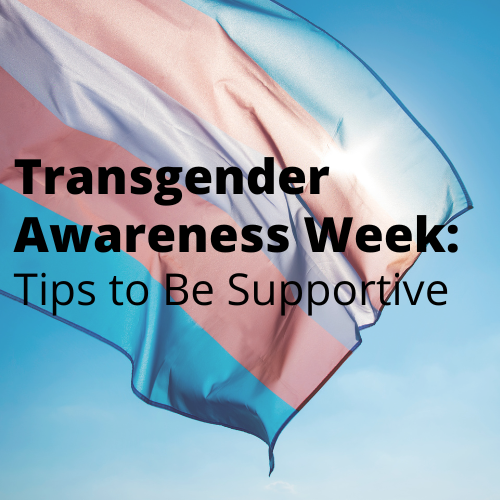 Transgender Awareness Week: Tips to Be Supportive
Transgender Awareness Week is a time to honor
During Transgender Awareness Week takes place each year from November 13 – 19. This is a time where we help raise awareness and visibility to those transgender individuals that have lost their lives due to fatal violence. Therefore, the one-week celebration leads up to the Transgender Day of Remembrance held November 20.
What is the history around Transgender Awareness?
According to GLAAD, Transgender Day of Remembrance began in 1999 by Gwendolyn Ann Smith, a transgender advocate. It was to honor Rita Hester, a transgender woman who was killed in 1998 and the vigil was to commemorate all transgender people that have lost their lives due to violence.
Challenges for transgender individuals
Our transgender community members face many challenges from not feeling safe to disproportionate healthcare.  Additionally, the violence they face is unprecedented. For instance, a recent survey found that half of transgender people have been assaulted or raped by an intimate partner. Further, some are attacked fatally simply for being a transgender individual.
What can you do?
Participate in your local Transgender Day of Remembrance or Transgender Awareness Week. For example, let others know you are an ally. Transgender rights and equality are the same as any other human rights issue, bring awareness so our community can stand up and help.
Transgender resources in Clark County