Youth Services:
Contact Us
Introduction
Camp Mariposa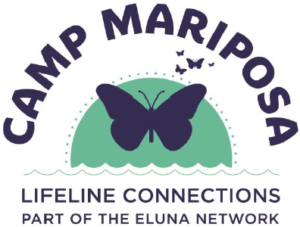 2023 Camp Mariposa® Weekends
Camp Mariposa® Southwest Washington is a year-round substance use prevention and mentoring program for youth affected by the substance use disorder of a family member. Children and teens attend transformational weekend camps every other month for a year or more. Youth ages 9-12 participate in fun, traditional camp activities combined with educational and support sessions led by mental health professionals. Teens are given a unique opportunity to continue their involvement in Camp Mariposa as Junior Counselors. Camp Mariposa builds knowledge, life skills, confidence, and provides an opportunity to connect with peers and caring adult mentors. Additional social activities are offered for youth, alumni, and their families throughout the year. All camp activities are provided free of charge. Youth who attend learn coping skills that build resiliency and ultimately break the intergenerational cycle of substance use disorder. This award-winning program is offered in partnership with youth-focused organizations in communities across the country. This camp is led by Lifeline Connections mental health professionals and is held in a beautiful camp setting in Clark County.
Eluna partners with youth-focused and mental health organizations in local communities to help fund, develop and grow Camp Mariposa® nationwide. Eluna is a public, 501(c)(3) non-profit with a mission to support children and families impacted by grief or addiction. Founded in 2000 in Seattle by former MLB pitcher Jamie Moyer and child advocate Karen Phelps Moyer, Eluna was originally called The Moyer Foundation and launched a series of programs supporting thousands of children and families annually at no cost to them. Camp Erin® is the largest national network of grief programs for bereaved children and teens, Camp Mariposa® is a national addiction prevention and mentoring program for youth impacted by a family member's substance use disorder, and the Eluna Resource Center offers online tools, local referrals, and personalized phone and email support for families experiencing grief, addiction, and other related issues.
For more information, please visit elunanetwork.org.

Looking for important grief resources to help a child, friend or family member in your community or nationwide? We are proud to share the Eluna Resource Center. Its straighforward design makes it easy to search for articles, videos, activities and referrals to local programs. In addition, Eluna offers personalized recommendations with a 24-hour turn around – free of charge.
Elunanetwork.org/resources
Molly S. Hasson
Director, Eluna Resource Center
mollyhasson@elunanetwork.org
(206) 298-1217
Contact information
Megan Elvrum
melvrum@lifelineconnections.org
(360) 946-7764
Transportation information
Lifeline Connections can offer transportation. Contact Megan for details.
Application Forms
Apply by filling out a form below:
"Camp Mariposa has helped me be bolder, stronger and healthier. I have made special bonds I could have never made at school." – Camper, 12
"Camp Mariposa helped me know that I am not alone. I have made friends who understand me." – Camper, 13
"Camp really helps me relax. I learned lots of things to help me when I feel upset. I can't wait to come back in two months!!!" – Camper, Age 10
"My son has been attending Camp Mariposa and it truly has been a blessing. I am so grateful for him to have the opportunity to express himself and talk about his feelings and not to be afraid of what he has gone through. It has also given him time away from his older brothers and myself which has helped him grow. I really appreciate the fact that he is able to do this camp, I want to thank everyone for caring and loving my son in this amazing healing process." – Father
Let us help you on your journey to a life of health and wellness.