Introduction
Community Based Services
Sometimes coming to an office to receive care is not an option, that is why Lifeline Connections provides a wide array of services in the community. These services meet individuals where they are and helps them access important behavioral health treatment services.
Peer Pathfinder Program
Certified Peer Specialists provide recovery support to adults 18 years and older who have an opiate and/or stimulant use disorder and experience or at risk of homelessness. Peer specialists have lived experience of substance use and mental health recovery and are trained to provide support services. In addition, they teach self-advocacy and are an approved Medicaid service in Washington State.
North Sound P.A.C.T. (Program of Assertive Community Treatment)
Lifeline Connections' PACT (Program of Assertive Community Treatment) Team is a highly-skilled multidisciplinary team of medical professionals: MHPs, Nurses, SUDPTs (Substance Use Disorder Professionals), case managers and peer support specialists.
Together they work collaboratively with patients who have severe and persistent mental illness and substance use conditions. Goals are set with clients to empower them to live successful, independent lives in our community.
If you have a prospective patient please download and complete our referral form and release of information (both are required). Once the forms are complete, fax them to (360) 306-8374 for review.
H.O.S.T. (Homeless Outreach Stabilization and Transition)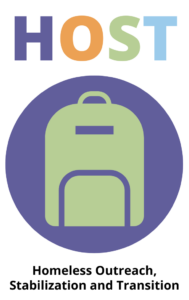 Lifeline Connections' HOST (Homeless Outreach, Stabilization and Transition) Team engages individuals experiencing homelessness with severe and persistent behavioral health conditions.
They reduce barriers to accessing traditional treatment programs.
If you have a prospective referral please download and complete our referral form.
Once the form is complete, email it to HostReferrals@LifelineConnections.org for review. You can also call (360) 397-8246 ext. 32000 for additional information.
Meriwether Place
Meriwether Place is a housing community that is owned and operated by Columbia Non-profit Housing. Lifeline Connections has offices at Meriwether Place and partners with Columbia Non-profit Housing in the placement of Lifeline Connections' patients.
Expanded Community Support (ECS)
Residents within adult family homes and assisted living facilities living with mental health disorders need extra assistance that adult family homes and assisted living facilities don't provide. That is where Lifeline Connections steps in to provide mental health treatment to these individuals to help them maintain stability and manage their symptoms.
Clark County P.A.C.T. (Program of Assertive Community Treatment)
Our Clark County P.A.C.T. (Program of Assertive Community Treatment) team is an assertive treatment program that provides intensive community-based services and is designed to provide a multidisciplinary wrap-around treatment approach. This program is tailored to individuals who have a substance use disorder and a mental health condition.
The Clark County P.A.C.T. team's offices are located at Meriwether Place.
Health Home Services (Intensive Care Coordination)
Individuals receive personalized support from a care coordinator in-home and in the community to help them better self-manage their multiple chronic health conditions and access local resources available to them. These services are available by referral only from local Medicaid managed care plans.
Jail Transition Services/Jail Re-entry Services
Many individuals who are incarcerated in local jails have untreated behavioral health conditions. Lifeline Connections helps individuals with a mental health condition and/or a substance use disorder access assessments while in jail and then helps them transition to community-based treatment once they are discharged from jail.
Offender Re-entry Community Support Program (ORCSP)
This program helps ex-offenders who have a history of complex mental health disorders and violence as they leave incarceration and reintegrate into communities. Lifeline Connections provides individuals with different levels of support to help them successfully integrate into their community.
Let us help you on your journey to a life of health and wellness.