Youth Services:
Contact Us
Introduction
Teen Camp Program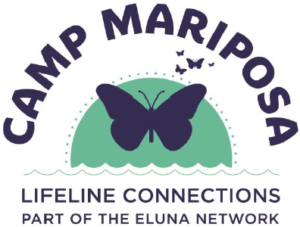 2023 Camp Dates
October 14th
December 9th
Camp Overview
The Camp Mariposa® Vancouver Teen Program is a free program for youth ages 13-17 who have been affected by the substance use disorder of a family member.
Teens attend camp throughout the year to participate in fund traditional camp activities and education sessions to learn how to break the cycle of addiction.
Eluna partners with youth-focused and mental health organizations in local communities to help fund, develop and grow Camp Mariposa® nationwide. Eluna is a public, 501(c)(3) non-profit with a mission to support children and families impacted by grief or addiction. Founded in 2000 in Seattle by former MLB pitcher Jamie Moyer and child advocate Karen Phelps Moyer, Eluna was originally called The Moyer Foundation and launched a series of programs supporting thousands of children and families annually at no cost to them. Camp Erin® is the largest national network of grief programs for bereaved children and teens, Camp Mariposa® is a national addiction prevention and mentoring program for youth impacted by a family member's substance use disorder, and the Eluna Resource Center offers online tools, local referrals and personalized phone and email support for families experiencing grief, addiction and other related issues.
For more information, please visit elunanetwork.org.

Looking for important grief resources to help a child, friend or family member in your community or nationwide? We are proud to share the Eluna Resource Center. Its straighforward design makes it easy to search for articles, videos, activities and referrals to local programs. In addition, Eluna offers personalized recommendations with a 24-hour turn around – free of charge.
Elunanetwork.org/resources
Molly S. Hasson
Director, Eluna Resource Center
mollyhasson@elunanetwork.org
(206) 298-1217
Contact information
Megan Elvrum
melvrum@lifelineconnections.org
(360) 946-7764
Transportation information
Lifeline Connections can offer transportation. Contact Megan for details.
Application Forms
Apply to participate in camp here.
Apply to be a mentor here.
Downloadable Forms
Let us help you on your journey to a life of health and wellness.