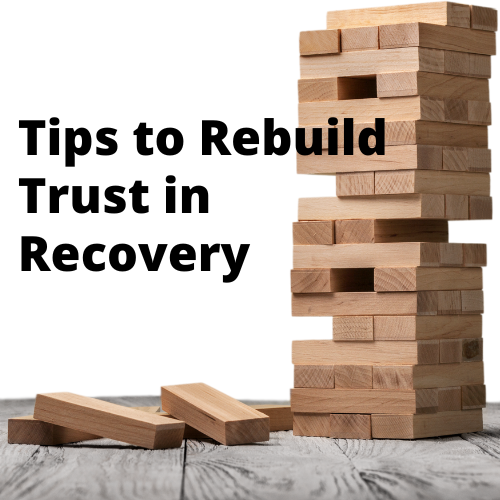 Tips to Rebuild Trust in Recovery
Steps to rebuild trust in recovery
To rebuild trust in recovery can take a lot of patience, especially if you were using substances for a long time. There's a lot of healing and forgiveness that needs to take place before you can expect family and friends to open their hearts and trust again. Most of that healing and forgiveness needs to come from within yourself. Meaning, you need to forgive yourself and behave in a way that's transparent and honest. The longer you live a life that with honesty, the more people will see you're serious about rebuilding important relationships.
Learn to trust yourself
When you learn to trust yourself and begin to make healthy decisions, things will begin to fall into place. Rebuilding trust in recovery will become easier as you forgive yourself for past mistakes and no longer see yourself as a victim, but instead as an empowered person making better choices. Over time you'll begin to see yourself stronger, healthier, and more confident. The more this takes place, the more the people around you will see it too. Remember, your actions will determine the level of trust someone places in you, not your words.
Practice open communication in rebuild trust
As with all relationships, honesty and open communication is the path to trust. Be open with how you express yourself to your friends and family and let them know you want to repair the trust you once had. In addition, allow them to speak openly even if they're saying things you don't want to hear. Be appreciative when you respond and avoid being defensive. When a person is defensive it will instantly sound an alarm.
Follow through with promises
When you follow through on promises you've made to the important people in your life it shows them that you're serious about rebuilding trust in recovery. For example, if you say you will attend 30 meetings in your first 30 days of recovery do it. Not only do it, but talk about it and perhaps bring up something you've learned so they can see you want to grow and avoid past mistakes.
It's not always possible to rebuild trust in recovery with every person from your past. However, focus on the ones that are willing to stay beside you and support your journey. The ones that stay beside you and celebrate your milestones with you are the ones that will matter most.
Do you want a professional to help you?
Lifeline Connections offers an integrated, holistic approach that includes therapy and case management. Our doctors specialize in the treatment of co-occurring mental health and substance use disorders. They work to solve ones that have a compounding effect. Contact us and reclaim your life.
Contact a doctor for a referral or find a therapist. They can work to design a custom plan for wellness.  Secure treatment is over the phone or computer with telehealth, providing coping skills for grief, loss, depression and anxiety. They will work with you one-on-one to get you feeling better.