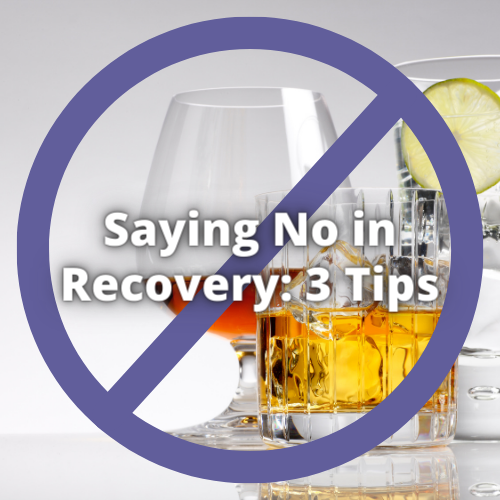 Saying No in Recovery: 3 Tips
Tips to say no
Everyone needs tips to say no during recovery, especially if you're just leaving a treatment facility. Typically it's one of the things your treatment team will address before you leave. However, if you've decided to stop using substances on your own you'll need to be prepared.
Tip #1
Simply say "no thank you". Most people have enough courtesy that if you say no thanks they'll leave it alone. You may encounter someone that asks why and it's up to you if you make it their business or not. You can always reply with "I don't feel like it".
Tip #2
Be honest. When you're honest, it'll truly show you who you should and shouldn't spend time with anyhow. If you say "no thanks, I quit" your true friends will support you without question.
Tip #3
Let people know you're working to live a healthier lifestyle. No one can dispute that substances aren't healthy.
No matter which tip you use to help avoid substances, supportive friends and family will always respect and support your decision. You may even inspire someone else to remove substances from their life.
Do you want a professional to help you?
Lifeline Connections offers an integrated, holistic approach that includes therapy and case management. Our doctors specialize in the treatment of co-occurring mental health and substance use disorders. They work to solve ones that have a compounding effect. Contact us and reclaim your life.
Contact a doctor for a referral or find a therapist. They can work to design a custom plan for wellness.  Secure treatment is over the phone or computer with telehealth, providing coping skills for grief, loss, depression and anxiety. They will work with you one-on-one to get you feeling better.