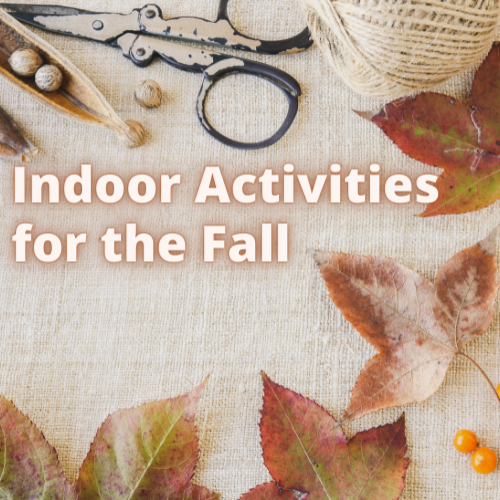 Indoor Activities for the Fall
Indoor activities help in cold weather
With the ever-increasing cooler, Fall weather, it can be hard to think of indoor activities to do with the family or on your own.
Create decorations
There are many pumpkin patches that are discounting unsold pumpkins, gourds and other decorations you can use to create something unique. It can be for your front porch or a festive centerpiece.
Roast pumpkin seeds
You can reuse the seeds from hallowing out your pumpkin pie fruit and create something delicious with the seeds. From a sweet honey-roasted seed to a savory, salty treat everyone loves snacking on pumpkin seeds.
Experiment with new recipes
This is a comfort food time of year and many squash make great soup or bisque. Go to the store and find a squash you've never had before and try a new recipe. You can even have each family member try their own recipe and have a contest of which one is best.
Collect and paint acorns
This can be a fun project for kids. Collect acorns from around your neighborhood and paint them. They are a fun addition to your centerpiece or a decorative vase with fall flowers. You need to bake them first and use acrylic paint for best results!
Make homemade treats
Fall is a great time of year to make your own caramel apples, pie or a variety of flavored popcorn. Not only will it be an activity everyone in the family will enjoy participating in, but they'll love the results too.
Make a pinecone bird feeder
There are many sizes of pine cones already fallen from the trees. You can bring them inside and clean them. Then, use peanut butter to spread around and in the cracks of the pine cone. Finally, sprinkle or dip the covered pine cone in bird seed. This is a great way to connect with nature and help the birds stay fed throughout the colder months.
Use the leaves to make a craft
There are endless crafts you can do as a family with leaves. You can create dried leaf place cards for meals, make a fall-inspired wreath or use the leaves as stamps for other projects.
What if you or your family still aren't motivated?
Lifeline Connections is committed to long-term mental wellness for our patients. We offer an integrated, holistic approach that includes therapy and case management. Our doctors specialize in the treatment of co-occurring mental health and substance use disorders, working to solve ones that have a compounding effect. Contact us and reclaim your life.
Contact a doctor for a referral or find a therapist. They can work to design a custom plan for wellness. Secure treatment is over the phone or computer with telehealth, providing coping skills for grief, loss, depression and anxiety. They will work with you one-on-one to get you feeling better.
Sources: