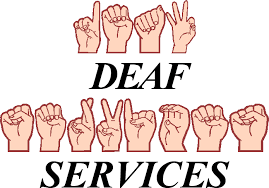 Lifeline Connections' Deaf and Hard of Hearing Program receives $5000 Award from the American Psychiatric Association Foundation
(Vancouver, WA) – Lifeline connections is honored to receive the American Psychiatric Association Foundation Award for Advancing Minority Mental Health. This award recognizes psychiatrists, other health professionals, mental health programs and other organizations that have undertaken innovative and supportive efforts to raise awareness of mental illness in underserved minority communities, increase access to quality mental health services for underserved minorities, and improve the quality of care for underserved minorities, particularly those in the public health system or with severe mental illness.
Lifeline Connections' Deaf and Hard of Hearing Program is one of only a small handful in the nation—less than half a dozen—that provides treatment for drug and alcohol addiction in American Sign Language (ASL). Since the program began in 2001 a deep trust has grown between the region's deaf community and the team at Lifeline Connections. Staff members have tenaciously hung onto their commitment to serve this population in spite of funding shifts that dramatically reshaped services the past several years.
The Deaf and Hard of Hearing Program's goal is to help patient's live clean and sober lives and effectively integrate into their communities in ways that assure their continued sobriety and health. Many patients remain connected with the organization through its Alumni Program and claim sobriety and recovery spanning up to thirteen years.
Funds from the award will be used to provide patient incentives, to purchase educational materials and provide specialized training for staff members. Lifeline Connections recently signed a service agreement with the state of Oregon that allows the program to serve Oregonians.