Tips for Summer Wellness amid COVID-19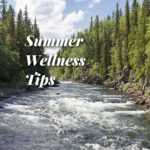 With Summer finally here and COVID still looming, you might be wondering is there anything I can do? A lot of people still feel that they're unable to go out, when in reality it is much healthier both mentally and physically to be outside. It's especially healthy for those that feel overwhelmed by all of the uncertain items COVID brings. The more active you are, the more you can focus on what is within your control and makes you happy.
Stay Active
Pick an outdoor activity at least twice a week to do with your family. It is healthier to be outdoors than in. Go on a hike, take a nature walk, play games like tag with your kids or go swimming. Not only does physical activity keep you healthy and reduce stress, but it's also a great way to bond as a family.
Explore Places Close to Home
It's completely OK and advised to go explore parks and trails close to home. It's even OK to venture a bit from home as long as you're maintaining physical distance recommendations of six feet. If you choose to explore somewhere outside of your county, plan ahead in case their regulations or re-opening phase is different than the county where you live.
Eat Healthy Foods and Hydrate
Water is the healthiest drink you can have. It hydrates and helps your body cleanse itself. It is especially important during the summer when dehydration is at greater risk. Try and avoid sodas and fruit juices and drink at least 64 ounces of water each day and more after exercise or being outside. Incorporate in-season fruit in your diet instead of sugary snacks. See what fruit is in-season in your area and take your family to the farm and pick it yourselves if that's an option.
Keep A Routine
Make sure you are still getting the same amount of sleep. These longer summer days can make you want to stay up later even when you get up early. However, getting a regular 8 hours of sleep each night is proven to reduce anxiety and depression.
What If You Still Feel Overwhelmed?
Lifeline Connections is committed to long-term mental wellness for our patients. We offer an integrated, holistic approach that includes therapy and case management. Our doctors specialize in the treatment of co-occurring mental health and substance use disorders, working to solve ones that have a compounding effect. Contact us and reclaim your life.
Contact a doctor for a referral or find a therapist. They can work to design a custom plan for wellness. Secure treatment is over the phone or computer with telehealth, providing coping skills for grief, loss, depression and anxiety. They will work with you one-on-one to get you feeling better.
Sources: https://www.cdc.gov/coronavirus/2019-ncov/daily-life-coping/visitors.html
https://www.mhanational.org/31-tips-boost-your-mental-health
← View More Posts