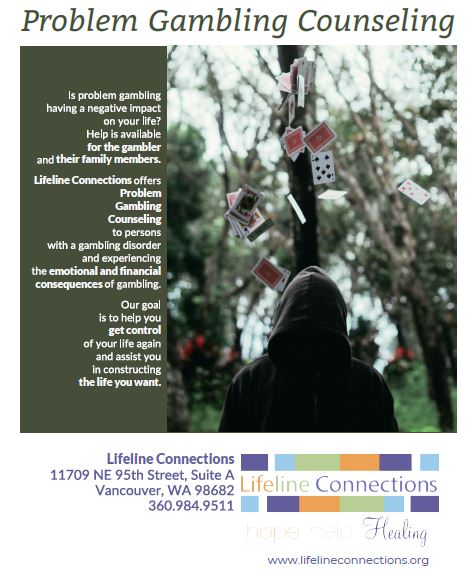 Lifeline Connections Offers Problem Gambling Services
Problem gambling is one of the fastest growing behavior disorders in the nation. The condition dramatically impacts the individual and those who surround them. Family, employers, and friends can be drawn into a spiral of denial, deceit and financial ruin.
Lifeline Connections is pleased to offer a new service for people negatively impacted by gambling. Our state certified problem gambling counselor works with individuals and their loved ones in an outpatient setting. Services are available at our East Vancouver (Orchards) location at 11719 NE 95th St, Suite A.
Gambling disorder is defined as an emotional and physical dependence on gambling. Symptoms include exhibiting a loss of control over gambling, putting self and loved ones at risk, and continuing to gamble despite the negative consequences of doing so. Pathological gambling is addictive, and most people cannot stop by themselves. The condition is fraught with financial, emotional, vocational, and relationship problems, and typically only becomes more progressive and devastating over time.
There is no cost for Lifeline's Problem Gambling services, and getting started is as easy as calling us at 360-984-5511. Business hours at the Orchards office are 8am – 5pm Monday-Thursday.
Lifeline's Problem Gambling Treatment program includes support and education for anyone who is being affected by the individual's behavior, including family members and friends. If you know someone who has problems with gambling, please give us a call or refer the individual or family to us.
Lifeline Connections is recognized as a leading behavioral health treatment provider. Our patients receive care by highly skilled professionals who know how to help people find long term recovery. We have a vision of creating the best treatment and rehabilitation possible in a way that is affordable to the greatest number of people. For over fifty-five years the agency has remained committed to this passion and vision.