Medicine Bottle by Jansen Niccals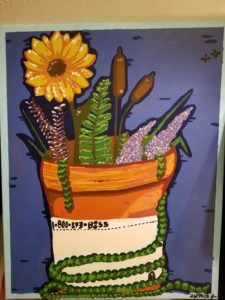 A medication bottle to remember your daily medicines, with the national suicide hotline printed on the label, in memoriam of Keith William Savage.
Fluidity by Kelsey K.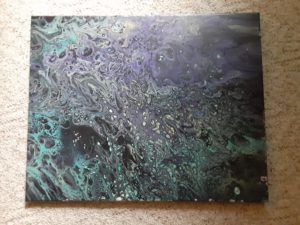 A flip cup pour using turquoise, purple, black and yellow!
Blue Dreams by Jennifer King-Cole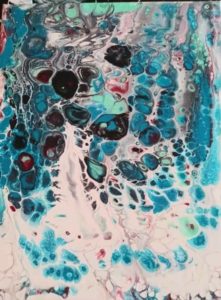 Mixed Media Paint pouring in shades of blue.
Recovery Revolution by Lusk – HOLY SPIRIT INSPIRED

Outerverse by Phreecazoyd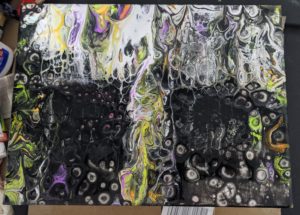 Paint pouring.
Connection African by Gillen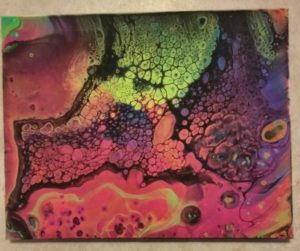 Acrylic pour neon
The Places I Go/Cover the Bad Parts by Julisse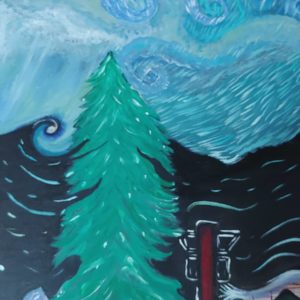 Originally created in 2015, it was one of the last pieces I painted before getting clean and sober. I hated looking at it, I felt it held a lot of my negative energy. In 2019 I painted over it, softened the hard edges until I found healing within it.
Crisis by Adam G.

Remembering the dark times. Homelessness, addiction and a deep disdain for my God.
Mag Basket by Linda Harbaugh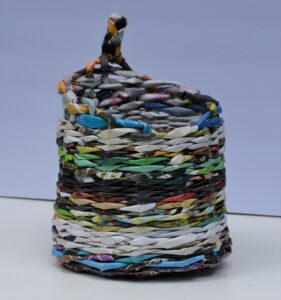 I made this basket from recycled magazine pages.
My Safeplace by Linda Harbaugh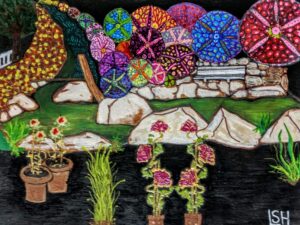 Water color pencils and paint pens.