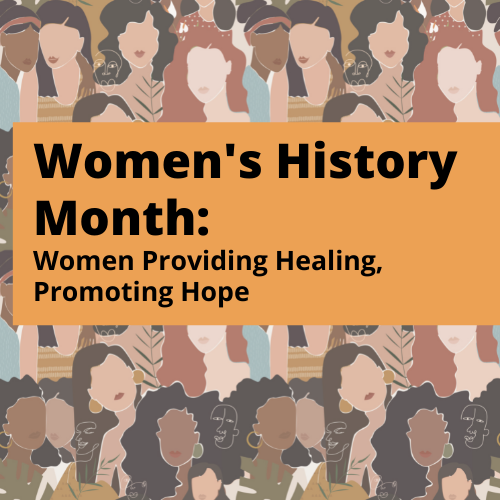 Women's History Month: Women Providing Healing, Promoting Hope
Why do we celebrate Women's History Month?
Every March is Women's History Month. It's a time to honor the contributions that women have given to our culture, society and history. Each year, the National Women's History Alliance designates a theme for Women's History Month. For 2022 the theme is "Women Providing Healing, Promoting Hope." This is very fitting considering all of the challenges the past two year has given us.
To honor this theme we celebrate the women below whose values align with this year's theme.
Elizabeth Blackwell
Elizabeth Blackwell lived from February 3, 1821 – May 31, 1910. She was a British physician and was the first women to receive an MD (medical degree) in the United States. In addition, she was the first woman on the Medical Register of the General Medical Council. Elizabeth was first a schoolteacher but after a friend became very ill and professed she would have received better care from a female doctor, she began applying to medical schools. She was denied admission from every school she applied to because she was a female, except Geneva Medical College (now known as Norton College of Medicine).
Elizabeth had a lasting impact in her community; from founding the New York Infirmary for Women and Children to organizing nurses in the American Civil War. Her contributions are celebrated annually with the Elizabeth Blackwell Medal. This is given to a woman who has made significant contribution to the promotion of women in medicine.
Margaret Floy Washburn
Margaret Floy Washburn was the first woman to receive a doctoral degree in American psychology in 1894. It wasn't without a challenge though. After graduating from Vassar in 1891, she wanted to attend Columbia University but it wasn't permissible for women to participate in graduate programs. However, she sat in on the classes as an observer and later went on to work with experimental psychologist E.B. Titchener.
She spent many years teaching and then became a Professor of Psychology in 1908 and continued there until in 1937 she had a stroke that forced her into retirement.
Margaret passionately contributed a lot to her field and wrote more than one hundred scholarly articles on topics from animal behavior and psychology to memory and spatial reasoning. One of her famous quotes says a lot: "Nothing in the world is so compelling to the emotions as the mind of another human being."
There are many women that have and continue to pioneer in a variety of fields. We celebrate them in their achievements now during Women's History Month and every day.
Triggers related to history
Sometimes when you educate yourself on emotionally charged historical events it can cause triggers or anxiety. It's important to be aware of this and take a break if needed. However, if you find you want to seek help if the heightened emotions won't go away, we can help.
If you want help with a mental health condition, reach out. There are mental health professionals here to work with you every step of the way and online support groups. Learn more about our mental health programs.