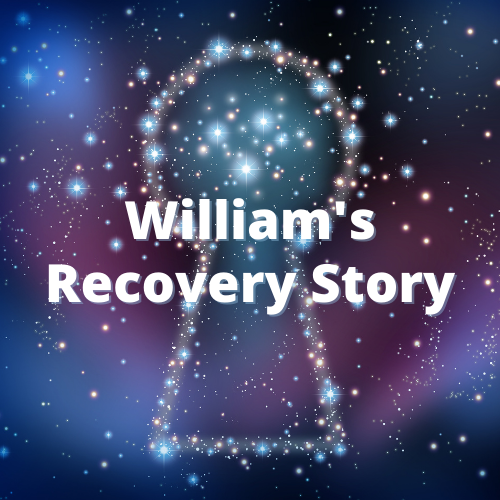 William's Recovery Story
An inspiring recovery story
This is William's recovery story. William, a Clark County native and the third youngest of eight children had a rough childhood. As a young child, he was beaten and taken advantage of by a family member. He never felt like he fit in resulting in behavior that put him on the streets where he began a life of crime and drug addiction. Spending much of his time in prison, he didn't know what life was like on the outside. He also had the perception that his family didn't care about him. "I was like a triple tornado running from people and ruining lives".
Incarceration and drug use
With fifteen-and-a-half years in prison, five prison terms, 23 felonies, seven of them occurring one week after his brother's death, more than 20 years of methamphetamine use, and seven treatment centers, William was finally done, felt suicidal and knew it was time for help.
Time for a change
His recovery story begins when a friend got in touch with him at the right time. William not only got himself into Lifeline Connections, but also into a life of service. While in treatment William was able to put his ego aside and began to identify mental health conditions. Learning to manage his this became a big part of his treatment and remains a big part of his recovery today. "Once you deflate the ego, start listening and taking direction, and find God things get better."
Where he is now
Today he has his own place, a full time job and his 16 year old son living with him and a third child. William is happy that his third child was born into a clean and sober environment. He has rebuilt the relationships with his family and now joins in family reunions. His mom calls three-four times a week and tells him she loves him and how proud she is. "I mean super-duper-duper proud of me!" William says with a smile.
William continues to give back to the community and finds strength in R360overy. He serves as a case manager in a supportive living house through Grace Ministries/Xchange, and was able to speak on bi-weekly panels to Lifeline residential and detox patients. When asked what his short term goals are his response was, "being a better man today than I was yesterday."
Do you want a professional to help you?
Lifeline Connections offers an integrated, holistic approach that includes therapy and case management. Our doctors specialize in the treatment of co-occurring mental health and substance use disorders. They work to solve ones that have a compounding effect. Contact us and reclaim your life.
Contact a doctor for a referral or find a therapist. They can work to design a custom plan for wellness.  Secure treatment is over the phone or computer with telehealth, providing coping skills for grief, loss, depression and anxiety. They will work with you one-on-one to get you feeling better.