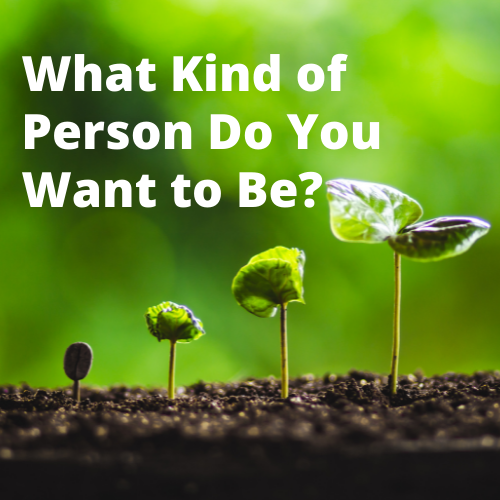 What Kind of Person Do You Want to Be?
What kind of person do you want to be?
What kind of person do you want to be when times are stressful, divisive or just plain hard? Countless people are experiencing more stress, anxiety or depression than they ever have. Let alone, those that have for the first time in their lives.
Changes in our lives
Over the past 18 months, just about everyone has had some type of change in their life. Some of these changes include:
Working from home
Juggling hybrid school for children
Supporting children emotionally as they return to a school setting that isn't normal
The inability to attend recovery meetings in person or the inconsistency of in person meetings
Important plans or events moved or cancelled.
Very few people have not been affected by COVID-19 restrictions. As more mandates are put into place and people continue to disagree it's a good time for everyone to ask themselves a question.
What kind of person do you want to be during times of distress, like we are in right now?
Do you want to be loving?
Or judgmental?
Do you want control and demand?
Or do you want to understand?
Are you a patient person?
Are you divisive?
Do you want to be empathetic?
When times are most challenging, they can be opportunities for our greatest personal growth. Overcoming fear and focusing on learning and growth gives a sense of purpose. It also gives people healthier things to focus on other rather than dwelling on what they can't control.
The Washington State Health Care Authority outlined items in the Fear Zone, Learning Zone and Growth Zone to help identify which behaviors to change in order to grow.
Fear Zone
Hoard unneeded food, toilet paper and medicine
Complain a lot of the time
Transmitting anger and fear related emotions onto others
Polarized viewpoints
Learning Zone
Stop compulsively consuming things that are doing harm such as watching the news all day or eating too much
Let go of things that are out of anyone's control; decisions made by state and country leaders
Begin to identify emotions
Verify the facts about information before sharing it (gossip or social media)
Acknowledge that everyone is trying their best
Growth Zone
Find out how to help others
Show empathy and grace for others, including yourself
Live in the present and focus on the future
Show gratitude
Transmit hope
Find ways to cope and adapt to change
Practice being calm and patient
If the stress begins to impact your daily life and taking breaks or connecting with loved ones doesn't help your patience level or you're unable to see any of the positive, reach out and get support. There are mental health professionals that you can connect with virtually through Telehealth. They'll work with you every step of the way and connect you with online support groups. Learn more about our mental health programs.