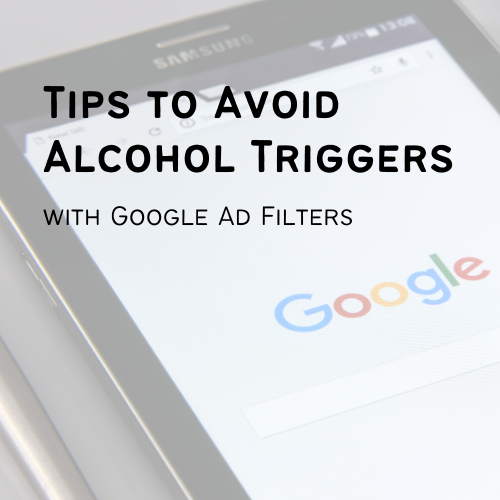 Tips to Avoid Alcohol Triggers with Google Ad Filters
What are your alcohol triggers?
Search engines can cause alcohol triggers. When you're new to recovery it's helpful to avoid a lot of things that are triggers in the beginning. These can begin the cycle of relapse and entice you to drink or use again.
Do you use Google?
Most people use Google to search anything from the weather forecast, nearby restaurants or how to fix something. Many people also understand the Google tracks your search history to predict which ads you'll likely click on or make a purchase through.
Ads can be an alcohol trigger
If prior to your recovery you searched bars, nightclubs or stores that sell alcohol then it's likely that Google will show you ads based upon those searches. This can cause alcohol triggers for some.
How to see fewer alcohol ads
Log into your Google account and go to the Data and Personalization section. You will have to make sure ad personalization is on. Next, click on "Go to ad settings".  You can see many options under the heading "how your ads are personalized." To turn them off click the particular ad type and select "turn off". Additionally if you scroll further down you will see a heading for ad categories on YouTube. There is an option to "see fewer" for both alcohol and gambling.
Avoid relapse
Relapse prevention is different for each person. The most important thing you can do in early alcohol use recovery is to develop a plan so you can avoid situations which lead to relapse or to any of the steps described above.
It's a good idea to work with your therapist at your treatment center to develop a written plan to avoid relapse. For example, list common situations and behaviors and how you will react to them. A good treatment center should be able to offer you a number of resources to avoid relapse. Additionally, support groups can be very effective, and your treatment center should be able to recommend local groups that can help you.
Treatment Options
Lifeline Connections commits to long-term wellness for our patients. For example, we offer an integrated, holistic approach that includes substance use disorder treatment, therapy and case management. Our doctors specialize in the treatment of co-occurring mental health and substance use disorders, working to solve ones that have a compounding effect. Contact us and reclaim your life.
Contact a doctor for a referral or find a therapist. They can work to design a custom plan for wellness. Secure treatment is over the phone or computer with telehealth, providing coping skills for grief, loss, depression and anxiety. Moreover, they will work with you one-on-one to get you feeling better.