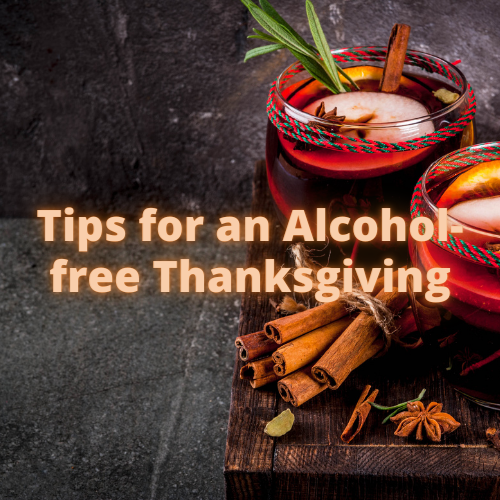 Tips for an Alcohol-free Thanksgiving
Here are tips for an alcohol-free Thanksgiving
Do you want an alcohol-free Thanksgiving? Whether you are early in your recovery or are in long-term recovery sometimes celebrating holidays can bring on the anxiety of being around alcohol.
Know your triggers
Before you go into any social setting it's important to understand what your triggers are. For example, does the sound of a can opening make you think of having a drink? Or does the stress of being around a large group of people bring you anxiety that previously made you want to have a drink? When you understand these, you can develop coping skills such as going for a walk or finding an alternate, non-alcoholic beverage to enjoy.
Non-alcoholic beverage options
Meanwhile, there are too many delicious, alcohol-free drinks to choose from that don't just include water, juice or soda. Furthermore, they can taste so much better and we have a list of flavorful options.
Hot apple cider with ginger
6 cups apple cider or unfiltered apple juice
4 ginger teabags
Non-alcoholic sangria
1 lime, sliced into thin rounds
2 cups boiling water
1 cup orange juice
2 cinnamon sticks
1 orange, sliced into thin rounds
3 cups pomegranate juice
1 lemon, sliced into thin rounds
1 apple, chopped
3 cups cold sparkling water or club soda
Asian pear sparker
Soda water
1 cup freshly pressed Asian pear juice
Small grating of fresh nutmeg
1 teaspoon lemon juice
1 (1-inch) piece fresh ginger, peeled and cut into coins
Ice
Pumpkin spice white hot chocolate
5 cups milk
1/2 cup canned pumpkin puree
1/2 teaspoon pumpkin pie spice
1/8 teaspoon of ground cloves
1/2 teaspoon vanilla
2 ounces white chocolate (roughly chopped)
Drizzle of Caramel Sauce (optional)
Fall Harvest Punch
3 Cups lemonade
5 Cups apple cider (non-alcoholic kind or apple juice if in UK)
1 Cup orange juice
5 Cups sparkling water
3 Apples (diced)
1 Orange (chopped)
What if you still need help coping with triggers?
Lifeline Connections offers an integrated, holistic approach that includes therapy and case management. In addition, our doctors specialize in the treatment of co-occurring mental health and substance use disorders.
Above all, they can work to design a custom plan for wellness.  Additionally, secure treatment is over the phone or computer with telehealth, providing coping skills for grief, loss, depression and anxiety. In short, they will work with you one-on-one to get you feeling better. So, contact us and reclaim your life.