Support Programs & Resources
"I also learned a lot about my disease and was given a solution. Going to treatment also enabled me to find a place to live once I got out."

– Alex R.
Self-help programs have long been known to be effective in assisting people in recovery. Each program has a different focus and often individual groups within each program are different. We encourage you to try several until you find both the program and the group that best suits your needs and personality.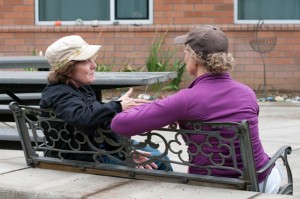 SELF HELP/SUPPORT GROUPS:
Alcoholics Anonymous
Alcoholics Anonymous – Vancouver, WA
Bereavement Groups – Clark County
Cocaine Anonymous
Co-Dependents Anonymous
Consumer Voices are Born (CVAB) – Clark County
Crystal Meth Anonymous
Debtors Anonymous
Gamblers Anonymous
Marijuana Anonymous
Methadone Anonymous
Narcotics Anonymous
Narcotics Anonymous – Clark County
National Alliance on Mental Illness Southwest Washington
Overeaters Anonymous
Portland Deaf Access Committee
Rational Recovery
Secular Organization for Sobriety
Sex Addicts Anonymous
SMART Recovery
Women for Sobriety
LifeRing Secular Recovery
The Lighthouse

ONLINE SUPPORT
Lifeline Connections Alumni Facebook Page
In The Rooms
Start Your Recovery
Suboxone Support Group
RECOVERY APPS
AA Big Book and More
Cassava
In The Rooms
Quit Now (Tobacco)
Sober Grid
FAMILY SUPPORT
Al-Anon
Nar-Anon
211info (Information and Referral)
Allies in Recovery
ADVOCACY GROUPS
Faces and Voices of Recovery
The Institute for Addiction Study
Washington State Coalition Against Domestic Violence
The National Alliance of Advocates for Buprenorphine Treatment
GOVERNMENT AGENCIES
Clark County Treatment Programs
National Institute on Drug Abuse
The Substance Abuse and Mental Health Services Administration
Washington State Division of Behavioral Health and Recovery
RECOVERY BOOKSTORE
Recovery Resource Center
SAFETY
Naloxone
Needle Exchange
OTHER RESOURCES
YWCA – Clark County
Aberdeen Alano Club
Portland Alano Club
Twelve Step Recovery Softball League
Sober Portland
Take 12 Recovery Radio