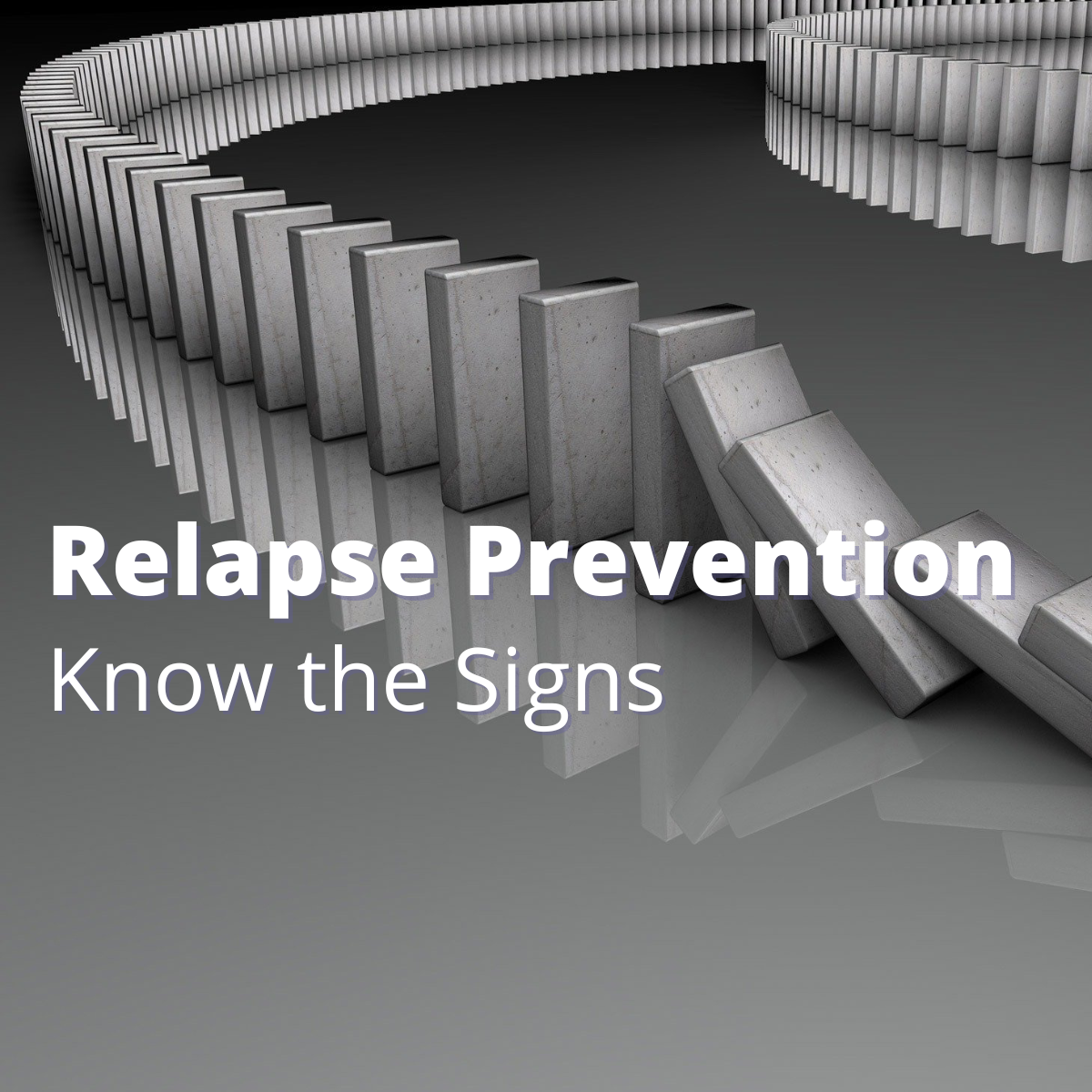 Relapse Prevention: Know the Signs
Relapse prevention
Relapse prevention is developing skills and habits to continue healthy behaviors and avoid falling into old patterns of negative behavior. This is incredibly important for those in recovery, but especially for those newly out of treatment.
How Does Relapse Happen?
Relapse doesn't just suddenly happen. It generally happens slowly. Relapse is a mental process with different stages before substance use physically occurs.
Emotional

A person isn't necessarily thinking about using, but the presence of negative emotions sets the stage. Increased or high levels of anxiety, defensiveness, isolation, anger, etc. These emotions need to be recognized and addressed to allow for healing and continued recovery.
During the emotional stage it's important to practice self-care: Exercise, pick up a new hobby, determine anxiety or stress relief techniques like breath work or yoga. Because if a person stays in the emotional stay too long, they become overly tired and it's easier to move into the second stage. Each progressing stage means it is more difficult to turn back.
Mental Relapse
Mental

In the early part of mental relapse, a person absently thinks about using. Later on in this stage that person is thinking and possibly fantasizing or planning when and how they'll use.

Some of these may include high-risk situations like sporting events, parties or other social gathering (and during COVID-19 the lack of gatherings may be a trigger) where a person would typically use.

Warning signs for mental relapse are

Hanging out with old friends that still actively use
Lying
Thinking about people, places and things a person used substances with in the past
Glamorizing their past use.
When a person glamorizes their past use with fun memories they often forget about the negative affects it had; hurting someone they cared about, stealing or getting arrested. If a person in the mental stage thinks the desire all the way through, they'll typically be glad they aren't using. Another method commonly used is waiting 30 minutes. Because in that time typically the desire to urge will pass, especially if idle hands are kept busy with doing something else like a chore around the house.
This is where it is so important for the person in recovery to go back to one day at a time and tell someone close to them about the urges. Having support will be vital during this stage because it doesn't take long to go from there to physical relapse.
As the stages of relapse progress, it is harder to turn back without the help of support and/or trained professionals. It's important to focus on the recovery aspect to make it long term, as opposed to stopping yourself by some type of mental force. While abstinence is a great start, it doesn't set the person up for long term achievement.
How to Help Avoid Relapse
Relapse prevention is different for each person. The most important thing to do is develop a plan ahead of time. A good substance use treatment center should be able to offer a number of resources to avoid relapse. Support groups can also be very effective helpful.
There are many different ways to combat substance use disorders and each patient is different. If you or someone you know is looking for treatment, please contact the professional team at Lifeline Connections. You can visit Lifelineconnections.org, our inpatient services pages for information or call (360) 397-8246 ext. 0 for more information.