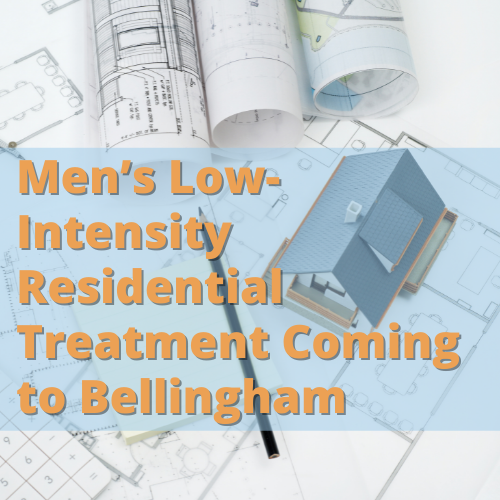 Men's Low-Intensity Residential Treatment Coming to Bellingham
Men's Low-Intensity Residential (Substance Use and Mental Health) Treatment Coming to Bellingham
Lifeline Connections in partnership with the Opportunity Council is excited to announce the opening of our Men's Low-Intensity Residential Program. This new substance use and mental health treatment facility will open late October 2021. It will provide additional recovery support services in the North Sound region.  Further, this program will provide a safe, stable home for up to 16 individuals identifying as male while they receive the tools necessary to begin their transition back into the community.
Support staff
The unique treatment program will have staff on-site 24/7 to ensure everyone's safe recovery. Individuals with co-occurring conditions often need staff-supported transition time. This includes housing after intensive inpatient treatment in order to be successful in recovery. Residents will participate in mandatory treatment hours each week in support of their overall mission for wellness.
It took many months to completely renovate the buildings located within the Lettered Streets Neighborhood. We will provide the following services to our residents:
mental health and substance use treatment
social skills development
vocational and recreational programing.
This program is one of less than a handful in all of Washington designed to address co-occurring conditions (mental health and substance use) at this level of care.
Service priorities will be focused on individuals involved in drug court, and then to the broader population.  In addition, the full continuum of care offered by the addition of this level of treatment service is to prevent admissions and readmissions to jail.  Although there is a focus on serving individuals involved in drug court, admission is open to all North Sound residents that qualify.
Program funders
The project is the culmination of strong community partnerships and funders including the Opportunity Council, who developed the facility and will continue to own and maintain the property. Additional generous support came from Bellingham Home Fund, Chuckanut Health Foundation, City of Bellingham, North Sound Behavioral Health Administrative Services Organization (BH-ASO), PeaceHealth, River Styx Foundation, Rotary Club of Bellingham, The Ferlin Family, Thomas & Martina Horn Foundation, Washington State Department of Commerce Behavioral Health Facilities Fund, Whatcom County Health Department, the Taxpayers of Washington State and Lifeline Connections.
To speak to someone call:  (360) 397-8246 ext. 30451