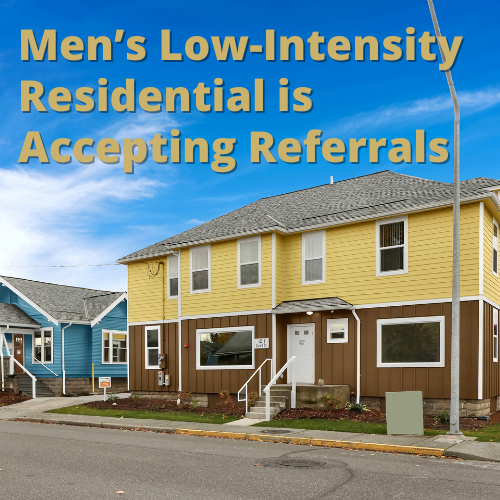 Men's Low-Intensity Residential is Accepting Referrals
Men's Low-Intensity Residential Program
Our new Men's Low-Intensity Residential Program is now accepting referrals in Bellingham, WA and the surrounding North Sound area. Furthermore, this new substance use and mental health treatment facility provides additional recovery support services in the North Sound region. Further, this program is a safe, stable home for up to 16 individuals identifying as male while they receive the tools necessary to begin their transition back into the community.
Support staff
The unique treatment program has staff on-site 24/7 to ensure everyone's safe recovery. In addition, our staff includes mental health professionals, substance use disorder professionals, case managers, peer support specialists and other support staff.
Treatment services
The individuals living in the Men's Low-Intensity Residential Program participate in mandatory treatment hours each week along with other activities to support their overall wellness.
Mental health and substance use treatment
Social skills development
Vocational and recreational programing
Individuals this program helps
This program is one of less than a handful in all of Washington designed to address co-occurring conditions (mental health and substance use) at this level of care.
Service priorities focus on individuals involved in drug court, and then to the broader population of qualifying North Sound residents.
Qualifying criteria for Men's Low-Intensity Residential treatment
Must be 18 years or older, identify as male and a Washington state resident
Any applicants' assessment must meet ASAM 3.1 level of care
Applicants' income is at or below 30% area median income
All applicants must be capable of participating in program activities and independently self-perform activities of daily living (ADLs): Subsequently, they do not need assistance of others.
Receive medical and behavioral health clearance from a community or tribal healthcare provider and/or mental health professional/SUDP/T prior to entry
Recovery House cannot accept applicants who are registered sex offenders
Any applicant will not qualify for services if they have self-reported or documented any of the following convictions or pending charges: For example, arson in the past 5 years, assault in the past 2 years, crime involving use of a weapon in the past 5 years
How to Refer to Men's Low-Intensity Residential
Fill out our referral form and fax to (360) 397-8455.
Questions?
Phone: (360) 397-8246 ext. 30500
Email: Admissions@lifelineconnections.org