Give More 24 for Lifeline Connections a Day of Giving
Help Lifeline Raise $5,000!
Give online anytime, all day September 19th from 12:00am – 11:59pm
Support Lifeline Connections in this year's Give More 24 – a day of giving and join us for FREE ice cream sundaes in the front courtyard Ice Cream in the Courtyard! Thursday, September 19th, 2019 2:00pm – 3:30pm
1601 E Fourth Plain Blvd., Bldg. 17, Vancouver WA 98661
BeCause…our mission is to inspire hope and support life-saving changes for people affected by substance use and metal health conditions.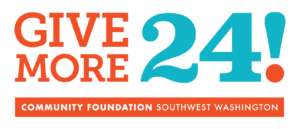 hope. help. Healing.