Substance Use & Mental Health Assessment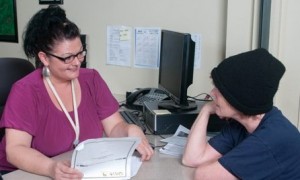 It all starts with your assessment.
To help you figure out your next steps, we need to know where you're at. Your initial assessment tells us how we can best meet your unique needs.
Our caring team of professional substance use and mental health counselors will complete a thorough assessment to determine what level of care you need to get your life back on track. Depending on where you are in your journey, we may recommend any of the following services:
If you need residential treatment and we don't have space available just yet, our pre-bed group will help you stay focused on your healing with activities every Tuesday and Friday at 1:00 p.m. We also encourage you to stay in close contact with our admissions team while you wait for your bed placement.
Take the first step.
Drop in for an assessment during our walk-in assessment time. No appointment necessary. Before you leave you will know what level of care is recommended and likely have an appointment set for your next visit.
Walk-in for an assessment:
Main Campus Office (Vancouver):
Mon – Thurs noon – 3:30pm
Youth – Friday 9am – noon & 1pm – 3:30pm
Aberdeen Office:
Mon – Fri 8am – 3:30pm
Camas Office:
Mon – Friday 9am – 3:30pm – mental health only
By appointment only, 360-524-7924
Bellingham Office:
Mon, Tue, Wed noon-3:30pm
Centralia Office:
By appointment only, 360-388-4048
Orchards Office (East Vancouver):
Tues & Thurs noon – 3:30pm – mental health only
South Bend Office:
Wed – Fri 8:30am – 3:30pm
By appointment only, 360-787-9319
We accept most forms of insurance. Find out what your coverage includes.
hope. help. Healing.
"I have become the friend people want around, the good employee the employer doesn't wish would go away and the son and brother to my family that I always wished I was."

– Chris A.