Alumni Program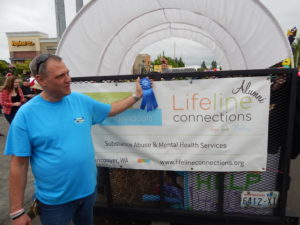 The purpose of Lifeline Connections' Alumni Program is to provide support for long term recovery to individuals and families striving to live in recovery from addiction and mental illness. We bridge the gap between treatment and returning to the responsibilities of daily life by building camaraderie, friendship, and pride among all alumni.
To assist in building relationships that help sustain long term recovery we encourage alumni to engaging in meaningful activities, attend and participate in strong programs, and assist in creating and engaging in an array of service opportunities.
Meeting Time:
Meetings are approximately twice a month on the first and third Wednesday evenings in the Recovery Resource Center, 9317 NE Hwy 99, Suite M, from 6:00-7:00pm in Vancouver, WA.  A light dinner is served.  All are welcome to attend.  Come and check us out!
Join today!
Giving Back:
Get Involved: As you know, part of being in recovery is giving back.  Are you looking for ways to give back?  We can use you along with the talents and skills you possess to further the mission of the Alumni Program. Fill out the form above or email us at alumni@lifelineconnections.org and don't forget to visit our alumni Facebook page and "like" us today!
Share Your Story: Former patient success stories are the heart of Lifeline Connections.  We have a goal of creating a "library" of the stories of Lifeline Alumni. We need your help.  There are many ways for you to share.  You can write your story.  We have provided an outline to assist you in getting started: Recovery Story Outline.  Don't worry about the grammar or punctuation; we can help you with that.  We are happy to edit and provide a proof for your review.  If talking is more comfortable for you we can videotape you and let you review the copy.

Upcoming Events